Event Details
Sample Event


Join us on sample date
We regret to announce Tips for Parkinson's DC will be postponed due to concerns associated with COVID -19.
While we hate to disappoint our community, your health and comfort are our top priorities.

We are grateful for all your hard work and commitment to raising funds for a cure for Parkinson's.
________________________________
In the past three years, Tips for Parkinson's: DC has raised over $200,000 for Parkinson's research.
Join us as once again to tip it forward towards a Parkinson's cure!

4th Annual Tips for Parkinson's DC
May 7th, 2020
6:00 pm-10:00 pm


Event entry includes drinks poured by competing bartending teams and unlimited, delicious food
from the La Vie kitchen. Throughout the night, each bartending team will be debuting a custom
cocktail during their shift, so be sure to bring cash to taste AND tip your favorites!


Remember -- the team that raises the most by the end of the night will take home
the coveted Tips Trophy!
Email us at MJFFYPDC@gmail.com to learn more!
MEET YOUR EVENT HOSTS!!
Team Fox DC
Team Fox DC (formerly YPDC) is a group of proactive "young at heart" individuals who dedicate their time and talents toward raising funds and awareness for Parkinson's research. While a personal connection to Parkinson's led many members to join, our community has since grown to include hundreds of other professionals from the DC-metro area who are inspired to join our movement. 100% of the proceeds we raise goes straight to the Michael J. Fox Foundation in order to find a cure for Parkinson's Disease. We are thrilled to be part of Tips DC for the 4th year!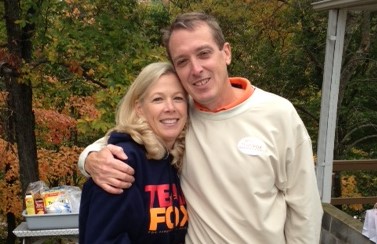 Gail and Patrick Oliver
Our connection to The Michael J. Fox Foundation began in 2001, when Gail's dear Mom was diagnosed with Parkinson's. As a loved one of someone with Parkinson's disease, there is often a feeling of helplessness in witnessing the daily challenges of PD. Joining up with Team Fox gave us a way to do something. It also gave us a new family ~ our Team Fox family, an inspirational group of people who are near and dear to us ~ all fighting for the same cause! Most importantly, it gave us HOPE! We continue to fight the good fight ~ in memory of Gail's Mom, who passed in 2004 ~ and in honor of our Team Fox family ~ by hosting our annual Mrs. Mo Memorial Golf Tournament, through which we have raised just over $155,000 to help speed a cure.
We are deeply honored and excited to be joining up with this dynamic group to host our fourth TIPS FOR PARKINSON'S DC event ~ continuing our fight for a cure!
Steve Greenfeld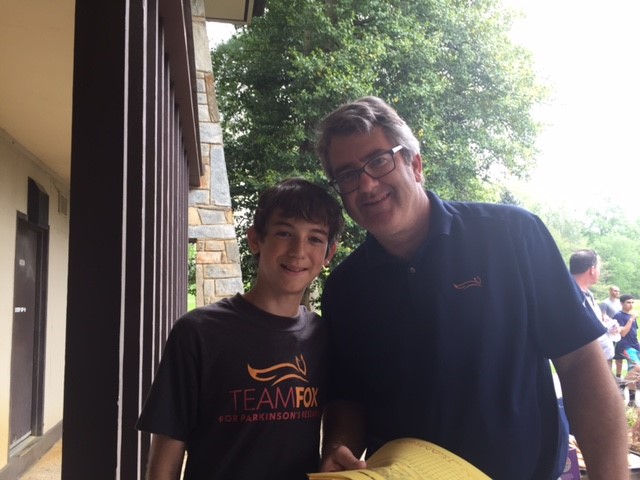 I was diagnosed with Parkinson's at age 48; roughly ten years earlier in life than my father was upon receiving his diagnosis. Those first few years, my involvement in the Parkinson's community was minimal as I simply followed my neurologist's daily doses for medication and exercise. In 2014, however, that all changed.

For his Bar Mitzvah project, my youngest son Max held a footgolf tournament and fundraised over $4,500 for Team Fox in my honor. As we got more connected with the Team Fox community, Max and I both became inspired to do more. Max is now planning his 4th Annual Kicking Parkinson's footgolf tournament, and I actively participated in five different Team Fox events and volunteered in four clinical trials to help accelerate research.
I am very excited to be part of the team to Tips for Parkinson's to DC, with optimism and knowledge that MJFF will find a cure for Parkinson's disease, if not in my lifetime,
certainly in Max's.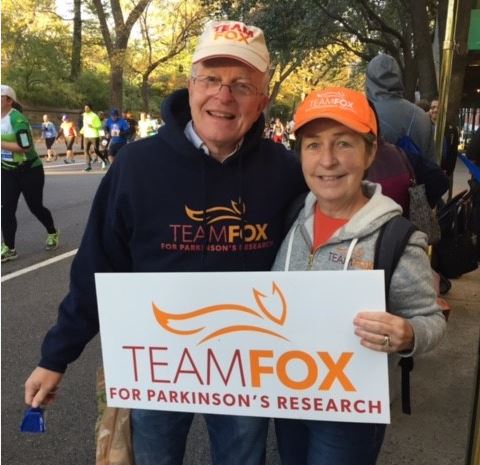 Kathy and Joe Holden
After Kathy's Parkinson's diagnosis in 2011, her husband Joe quickly took on the role of sidekick more so than caregiver as we, together, adjusted to life with PD. We began actively fundraising with Team Fox-- annually hosting a Bags and Baskets Bingo night-- and for, the last three years, one member of our extended Shea family has also run the NYC Marathon with Team Fox. Collectively, Team SheaKin for a Cure has raised over $130,000 for Parkinson's research.

While Parkinson's has no doubt brought its challenges over the years, through Team Fox, it has also brought friendships and support in unforeseeable ways. We are thrilled to be part of the Tips for Parkinson's DC effort and look forward to Team SheaKin for a Cure jumping right in behind the bar, too.




Ethan Henderson

My father was diagnosed with Parkinson's in 2001. It was not until 2011 when I learned
about The Michael J. Fox Foundation. Since then, I have run 4 marathons as a member
of Team Fox, many other road races, community events, and fundraisers. Being part of
this important Foundation made me realize that it is so important that someone with
Parkinson's have a community of support and not just family members. Care Partners are
vital to the wholistic approach to fighting Parkinson's disease.

I am very excited to be part of the Tips for Parkinson's DC team with hopes that raising
money for the MJFF and other similar organizations will find a cure for Parkinson's
disease.